FREE flicks...get 'em while they last!
With the inclusion of a link to actually view the discussed movie--for FREE, no less--for the first time in Manor On Movies history, and the subsequent enormous leap over the usual two million hits each MOM receives, I was obviously "onto something" with the Frankenstein Island posting.
As a result, I've decided to skip presenting another review this go-round, in favor of providing what scientists call "a whole lot" of links to previously reviewed-here junkfilms, once again allowing readers to enjoy a festival of funativity without spending a centavo.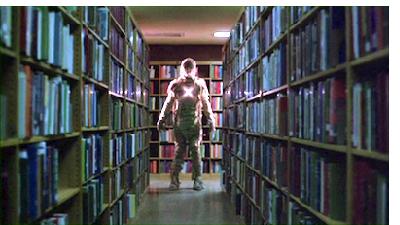 <--It's time to take in Time Walker
There is one caveat, however: Each of these pics is presented on YouTube. For those not in the know, that translates to two things. First, print quality varies greatly. And, C, movies have a tendency to come and go on YouTube, no notice or explanation given.
On the plus side, by the time you read this, someone may have uploaded a better print than the one I provided a link to; so, if you're really jazzed about watching a particular film, you may want to perform a Search and see if that isn't the case with your selected mopic. On the down side, you may click on a link and get el zippo, the desired doozy having gone MIA. Best move is to watch--or at least download--whatever strikes your fancy, like, pronto, Tonto.
Bear in mind, not EVERY film covered in Manor On Movies is among the following freebies. But what the H-E-double-hockey-sticks, I'm saving you over a hundred bucks, so stifle yourself, meathead. Besides, do I come to where you work and tell you...um, how to get paid better than a columnist?
Think I might have done that wrong. At any rate, here's the linkapalooza. Oh, and be sure to Follow me on Twitter at @SWManor for a frequent dose of things youll like and much much less!
(FYI, links paired are that way because they refer to the same review, not due to sloppy webmasterizing. So, there!)
https://www.youtube.com/watch?v=_dPWWQ6VlGs Bloodsucking Freaks
https://www.youtube.com/watch?v=CEng4tyVcJM Ilsa, She Wolf Of The SS
https://www.youtube.com/watch?v=HB6KXL6jyy4 The Yesterday Machine
https://www.youtube.com/watch?v=hWyesH4wXFY Raiders Of Atlantis
https://www.youtube.com/watch?v=aZTGgZ02DFY Kiss Me Quick GREAT print
https://www.youtube.com/watch?v=2oPDRDNn6Ss House On Bare Mountain
https://www.youtube.com/watch?v=JLTVl6YWOjA Hangar 18
https://www.youtube.com/watch?v=TOAB_CfYtjQ Night Of The Bloody Apes VG print
https://www.youtube.com/watch?v=BUX9bXzSBoM Weird World Of LSD
https://www.youtube.com/watch?v=--J46yILEl0 Rock Star mediocre print
The Creeping Terror will attack your car if you don't like this column!-->
https://www.youtube.com/watch?v=Zabhd3E8JDU Time Walker
https://www.youtube.com/watch?v=HZG-mQDkgFE&index=67&list=PLjygzGIObj88pLTHJUmUD8hUnhqVYJ25Y
The Creeping Terror
https://www.youtube.com/watch?v=3Nc8JJ6taKU Night Of The Ghouls
https://www.youtube.com/watch?v=lSmVPxPwR7I Curse Of The Swamp Creature
https://www.youtube.com/watch?v=OB99qPN9MmI&index=87&list=PLIX0WI0JF6k1r68gRKsPRbe9YqgoAOgMy
Herschell Gordon Lewis documentary
https://www.youtube.com/watch?v=IP1m4C4pNak The Sender VVG print